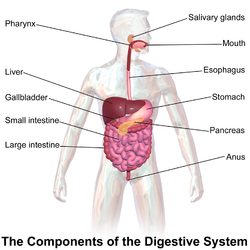 The
Digetsive System 
is the system that consists of the
pharynx
,
salivary glands
,
mouth
,
oesophagus
,
stoamch
,
liver
,
gallbladder
,
pancreas
,
small intestine
,
large intestine
and
anus
. The digestive system makes digestion possible. Digestion is the process of turning food into energy for your body to use.
What Do The Organs Do?
Edit
Pharynx - The pharynx recives the food from the mouth and passes it to the oesophagus.
Salivary glands - The salivary glands is where saliva is proucuced. Saliva helps you chew your food and has  enzymes in to break down large food molecules into small molecules.
Oesophagus - The oesophagus pushes food down towards the stoamch using a series of muscle contractions called peristalsis.
Stoamch - The stomach uses hydrochloric acid (Stoamch acid) and enzymes to turn the food from a solid to a liquid or a paste. The acid also kills off potientially harmful bacteria.
Community content is available under
CC-BY-SA
unless otherwise noted.